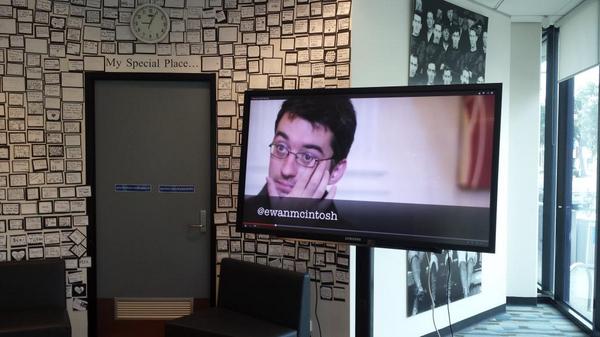 @aus_teach *Actually* crying with laughter, at Melbourne Coffee Morning courtesy of @mikecoulter #edcm @heyjudeonline #inf536

— Ewan McIntosh (@ewanmcintosh) September 14, 2014
Just when you think academic life is getting boring, along comes another opportunity to play nicely with friends!  In this case, my most excellent colleague Ewan McIntosh is in the middle of working with a good bunch of lucky students who are busy in our new subject Designing Spaces for Learning, which is part of our  in our fab new degree in 2014 Master of Education (Knowledge Networks & Digital Innovation).
This needs more than just a tick for a subject completed!  This is why! This is what has happened!
We've got a badge!  But we need to tell the story of the context and why we have the badge first!
Ewan masterminded the writing of the subject to fit the profile of our degree, and the students are encountering  challenges almost on a daily basis. Together we have been pushing the boundaries in traditional academic processes, and assessments. The most recently completed task (no marks, just challenges – that's different!) has been a creative coffee morning experience.
In fact students were challenged to undertake a coffee morning, afternoon, evening beer, meeting the criteria of the task.
This assessment is undertaken in three parts:
The creation and undertaking of a Creative Coffee Morning in your community.
The online publication of photos, video, a Twitter hashtag archive, Storify and/or blog post which shows the activity that occurred during your Creative Coffee Morning.
After completing your own task, you must provide kind, specific and useful feedback on at least three of your subject.
The upshot has been a wide range of activities, in a variety of settings.  But I'm sharing here the Storify #INF536 Creative Coffee Morning: A meeting of creatives to discuss creativity, design, design thinking and the design of learning spaces, of an event that took place in Melbourne, because I was very lucky to be able to attend!
You get the drift?
This degree and this subject is not your regular experience, even though it does get structured around the traditional framework of an online degree. It's new, and because it's new, we wanted to see what else we could do.  Some of our students are also just doing this subject, as 'single subject study' and others are here for the long haul of getting a fab new degree.  So why not do more??
Charles Sturt University (CSU) has seen the potential for digital badges and are running an innovation project involving a number of faculty pilots in 2014. The benefit of digital badges for the Earner is that they can profile themselves online through displaying their badges and highlighting their most recent and relevant continuing education and professional development achievements. So in our case, the Faculty of Education,  has partnered with the global leader and CEO of NoTosh, Ewan McIntosh (expert and international keynote speaker on innovation, design thinking and creativity) to offer a digital badge in Designing Spaces for Learning. This badge recognises the successful demonstration of an earner's ability to design spaces for learning through engaging in theory and collaborative practice, and fits beautifully into the participatory intentions of the  Master of Education (Knowledge Networks and Digital Innovation).
I hope that this will be the first of many digital badges that will be offered, but for now  we can learn from our experience of designing and issuing a badge, and improve on this for our next offering.
Experimentation with digital badges is gaining momentum across Australian universities with various trials and projects being announced including Curtin University's Curtin Badges and Deakin University's Deakin Digital.
I'm excited to be involved in actualising digital badging at CSU with NoTosh!
We've been connected online since a TeachMeet in Glasgow on the 20th of September 2006 (Judy beaming in via Skype at 2am).  By the way, did you know that TeachMeets were conceived in the summer of 2006 in Edinburgh, Scotland, under the name "ScotEduBlogs Meetup. The new name TeachMeet was created by Ewan McIntosh and agreed upon by the attendees of the first event. The 2nd Edition was held in Glasgow on the 20th of September 2006.
Want to join us in 2015 for this subject, or in the whole program – you'll find that enrollments are open for March. Come join us 🙂
Related articles