Within the business and education sectors, some people prefer to maintain a 'professional' social  network for work-related communication and collaboration, while maintaining a 'personal' social network to communicate and share with family and friends. Others prefer to merge or integrate their professional and personal lives as a single 'connected' network.
Yet in my experience, rather a lot more hardly make use of the affordances of technologies, and prefer to remain back in the 20th century.  While I understand this when the choice is actively made based on knowledge of social media, I have run out of excuses to justify this position for educators at any time. In a technology-driven society, things change at a faster rate than ever before in history. We need to be connected.
Do we really need connected educators? Tom Whitby provides a 'neat' rationale for being connected:
Who educators connect with is a very critical consideration. Acquiring numbers of educators who share concerns and interests is essential. Once an educator connects with other educators, they begin to collect them as sources in a Professional Learning Network of educators, a PLN. A connected educator may then access any or all of these sources for the purpose of communication, collaboration, or creation. This connectedness is not bound by bricks and mortar. It is not bound by city limits or state lines. It is not limited by countries borders. The only nagging inconvenience is dealing with time zones on a global level.
Yes, there have been any number of examples in the last several years about the influence of social media, but this next story caught my eye today.
A Quiet [Twitter] Protest
In Istanbul, known as the city of seven hills, dozens of public stairways crisscross centuries-old neighborhoods, giving pedestrians a way to avoid heavy car traffic on the streets.
Those walkways generally attract little notice, but that changed last week, when a retired forestry engineer decided to paint the Findikli stairs in the central district of Beyoglu in all the colors of the rainbow — an act of guerrilla beautification that unintentionally triggered a fresh ripple of anti-government protests.
The retiree behind the caper, Huseyin Cetinel, 64, told the local news media that his original motivation for applying a fresh coat of paint to the stairs was not activism, but the desire "to make people smile." Mr. Cetinel said he spent nearly $800 on paint and devoted four days to sprucing up the stairs, with help from his son-in-law.
"Don't you think Findikli Stairs are just amazing? Thanks to those who did it," one Twitter user wrote last week.
What happened next in the story was interesting.
What transformed the painted stairs into a political issue was the surprise that Findikli residents woke up to last Friday: the stairs had been hastily, and somewhat unconvincingly, repainted in their original color, a dark cement gray.
Activists began organizing on Twitter almost immediately, using the hashtag #DirenMerdiven, or ResistStairs — a reference to the hashtag used for protests in June against government plans to build a shopping mall in place of the city's Gezi Park, #DirenGeziPark, or ResistGeziPark.
The rest is as you would expect – thanks to social action.  Read more at New York Times.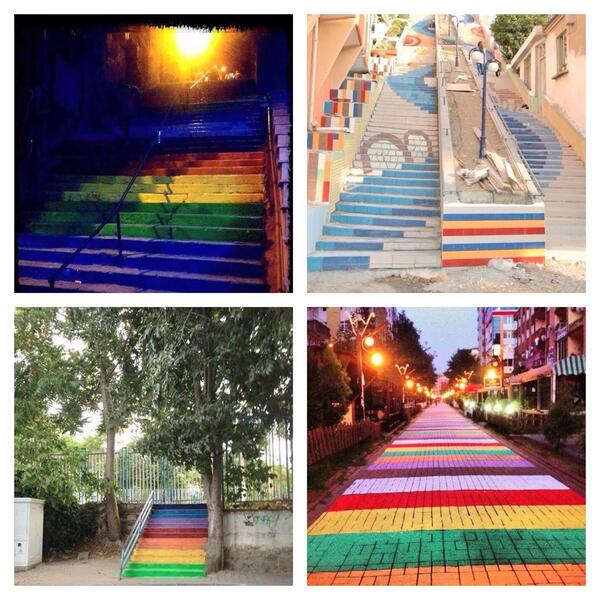 "But I'm already active on Twitter" I hear you protest?
Well I have something else to share with you that I know others have enjoyed.  Check out this  presentation to find out the number one mistakes that everyone makes on Twitter.
Image: cc licensed ( BY ) flickr photo shared by Lenore Edman